Update On The Situation In Ukraine (as of March 29, 2022)
An Update On The Situation In Ukraine – March 29, 2022
As the war in Ukraine enters its second month, our Ukrainian Masorti/Conservative communities across the country and beyond its borders are still in need of our support. Together with Masorti Olami's partners at The Schechter Institutes, we are continuing to assist community members both within Ukraine and in host countries around the world.
Currently, Ukrainian refugees are being hosted by our generous communities and friends in Germany, Poland, Romania, Hungary, Israel and Czechia and many more are continuing their journeys to safety, crossing many international borders. Our movement's efforts led by Tehila Reuben, Deputy Director of Masorti and MERCAZ Olami and by Rabbi Irina Gritsevsky,
Director of Midreshet Schechter, are extremely vital in supporting our Ukrainian communities through the war and in creating support networks to deal with the aftermath of the war in Ukraine.
We want to especially thank our partners and donors from around the world who have enabled us to support our Ukrainian Masorti/Conservative communities. Thanks to your donations, we have been able to evacuate over 100 refugees from Ukraine to safe places, and have been able
to provide them with everything they may need such as food, medicine, transport and shelter, along their journeys and in their host communities.
Rabbi Mauricio Balter speaks to the Ukrainian Refugees in Berlin
Rabbi Reuven Stamov Reunites With His Ukrainian Community Members In Berlin
Rabbi Mauricio Balter, Executive Director of Masorti and MERCAZ Olami, together with Deputy Director Tehila Reuben travelled to Berlin last week for three days, to visit the Ukrainian Refugees that were brought to Rabbi Gesa Ederberg's community in Berlin. The main purposes and goals of their trip were to meet with the Ukrainian Refugees and gain a better understanding of their needs and individual situations. By bringing their rabbi, Rabbi Reuven Stamov, to meet with them and start working on the next steps, we were able to give them hope. Rabbi Balter and Tehila brought them supplies and Passover items
(Seder plates, Kiddush cups, haggadot in Russian, etc.) as well as presents for them to be able to gift to their host families before the holiday. We brought various supplies for the Masorti School in Berlin, which is now hosting 10+ more students from
Ukraine, as well as 50 Russian-Hebrew siddurim which were graciously donated by The Schechter Institutes. We also brought NOAM Olami shirts and kippot which will be used for starting the NOAM Berlin-Ukraine branch.
Distributing NOAM Olami swag to help get the NOAM Ukraine-Berlin group up and running
There is only so much one can understand about the situation from afar – and meeting the people on the ground, both Ukrainian and German, was and continues to be essential for our efforts and support. The group of Ukrainian Refugees were touched by everything that we brought, and could not even express their appreciation, beyond crying, hugging and thanking us.
On Friday,
Rabbi Balter and Tehila, together with
Rabbi Ederberg, Eva Frenzen
and the rest of their dedicated team in Berlin, arranged for a group brunch for all
of the Ukrainian Refugees (or "Guests" as Rabbi Ederberg calls them), where they went around the table so each person could introduce themselves and share more about their situation and experience.
Rabbi Balter led the group in explaining that we will continue to support and help them through all of this, as long as necessary; we are here to listen and help. The Guests were thanking
Masorti Olami
and
The Schechter Institutes
for saving their lives, for bringing them to this amazing community in Berlin, and for taking care of them.
Rabbis Mauricio Balter, Reuven Stamov and Tehila Reuben host the group of Ukrainian Refugees for brunch in Berlin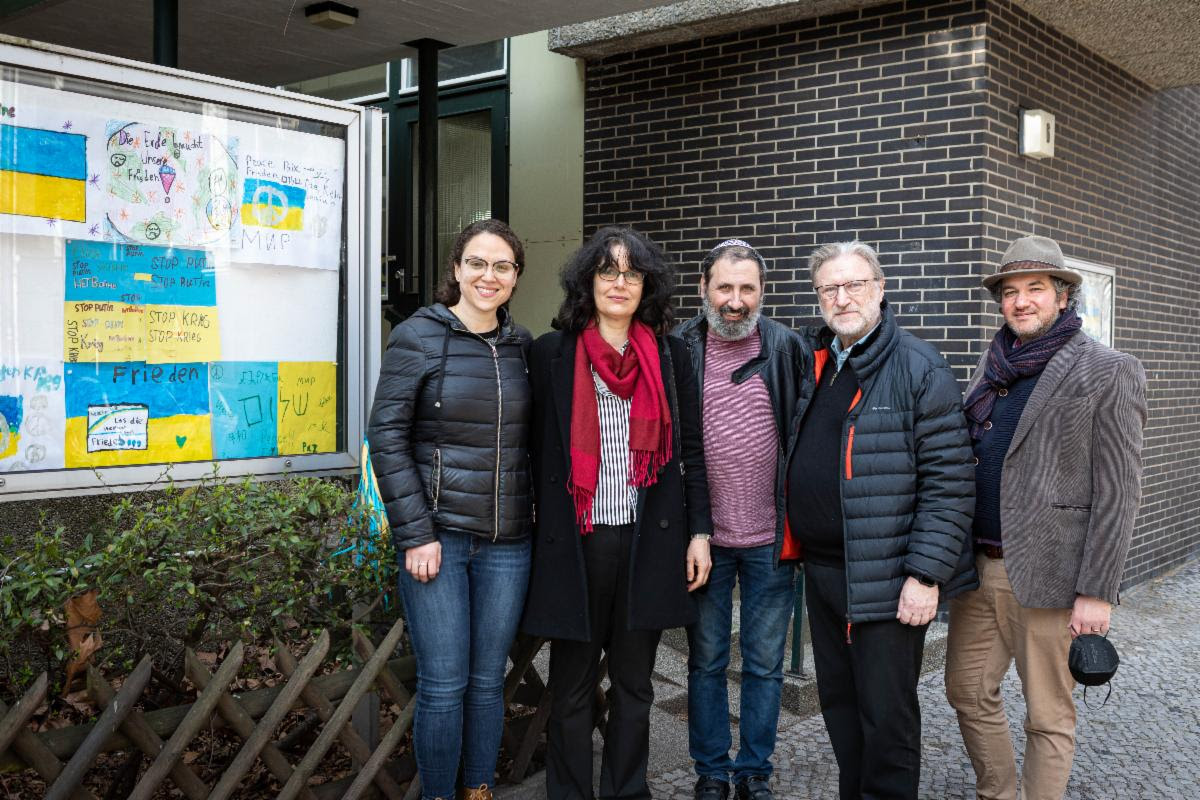 Rabbi Balter and Tehila also had the opportunity to visit the Masorti School in Berlin: Jewish International School – Masorti Grundschule to meet with the teachers and children, and distribute the gifts that were brought. The Director of the School, Dr. Gesa Rachel Biffio together with Executive Director Jonathan Marcus, took them around the school showing them the newly dedicated classrooms where the Ukrainian children are now learning German and other topics.
Dr. Gesa Rachel Biffio and Jonathan Marcus together with Rabbis Balter and Stamov and Tehila Reuben in front of the Jewish International School – Masorti Grundschule
Shabbat was brought in by lighting candles altogether with the Ukrainian Guests, which for them, symbolized yet another week gone by living as refugees. Another week gone by without a home and being with their family. The group all hugged and embraced each other as Rabbi Stamov led them in the bracha for Shabbat. Rabbi Stamov led the Friday night services in the traditional Ukrainian way that he does back home, and it was clear that his Ukrainian community members felt at home. Friday night dinner, which was prepared 100% by the Ukrainian Guests, included a very powerful message by Rabbi Balter who spoke about how the ultimate test of Jewish authenticity is our willingness to respond with tzedek (justice) and chesed (kindness) to each other's needs,
and how it directly relates to the current situation in Ukraine.
Rabbi Balter, Rabbi Stamov and Tehila spent Shabbat afternoon getting to know more about Rabbi Ederberg's community in Berlin, as well as spent a few hours sitting with the Ukrainian Guests, hearing more about their experiences and needs.
Masorti Olami together with their partners at The Schechter Institutes continue to monitor the situation on a daily basis. We are still sending refugees through various Masorti/Conservative communities in Europe, who are all taking such good care of them. Avigail and Joe Smoczyński from our community in Warsaw treated the refugees that spent time in Poland as "special guests who now feel that they have new friends. The kids were happy for the first time in over a month."
Avigail and Joe Smoczyński from Warsaw help the Ukrainian Refugees get on a train to Berlin
Celebrating Purim In A War Zone
The joyous holiday of Purim looked slightly different this year for our Ukrainian communities but was celebrated nonetheless. Rabbi Irina Gritsevsky, Director of Midreshet Schechter visited Chernivtsi alongside Rabbi Avi Novis-Deutsch, Dean of the Schechter Rabbinical Seminary, taking with them a Megillat Esther as well as vital food and
medical supplies. Chernivtsi, home to one of our Ukrainian Masorti/Conservative communities, has recently become a temporary place of refuge to those fleeing fighting in the rest of the country as well as to those in tranist out of Ukraine.
The daring duo, who entered Ukraine through the Romanian border, ensured that even amidst war, our Ukrainian community members currently in Chernivtsi could celebrate the joy of Purim and fulfil the mitzvah of reading the Megillah. Together they also made hamantashen and dressed up to mark the holiday. The reading was broadcast live on Facebook and can be watched here.
Purim Celebrations in Chernivtsi with Rabbis Irina Gritsevsky and Avi Novis-Deutsch
Although Purim in Chernivtsi was successful, our communities around the country have been under bombing for almost one month now. Odessa, a coastal city is facing bombardment from the sea, with community members sheltering at home. Despite this, Purim was celebrated with a small gathering and Megillah reading, supported by Masorti Olami and The Schechter Institutes and led by community leader Lev Klaiman.
Kharkiv in the far east of Ukraine had a not so joyful Purim. "Purim was terrible" says Rabbi Gritsevsky, and those children in the city who made their way to the community's school were unable to finish making hamantashen after a bomb close by destroyed the water and electricity supply to the building. We are continuing to support the community in the capital, Kyiv, whose Torah scrolls have been hidden by the community's administrative director Maxim in order to protect them from destruction. A larger number of the Kyiv community members have fled the city to Chernivtsi and beyond, and those who remain are taking care of the elderly and vulnerable who are unable to leave their homes.
Outside of Ukraine meanwhile, Ukrainian Masorti/Conservative community members have celebrated Purim both in Israel and Germany, as well as in other European countries where they have found refuge. Our Masorti/Conservative community in Berlin, welcomed many 'guests' into their community, seeing to their every need and ensuring that Purim could go ahead. The community's Masorti school held a Purim Spiel and the community hosted a Purim party and Megillah reading. In Israel, Ukrainian refugees were hosted around the country, including at Kibbutz Ketura and Kibbutz Hannaton where they could celebrate Purim in new surroundings, thanks to the incredible help and efforts of The Masorti Movement in Israel. More members of our Ukrainian communities will be making the journey to Israel in the upcoming days, joining those already here.
Purim in Berlin with Ukrainian Refugees
From right to left: Rabbis Reuven Stamov, Gesa Ederberg, Mauricio Balter and Tehila Reuben in Berlin
Ukrainian Children starting to learn at the Masorti School in Berlin
Distributing supplies and Passover goods to the Ukrainian Refugees
Rabbi Mauricio Balter and Tehila Reuben get to the know Ukrainian Refugees in Berlin
Rabbi Mauricio Balter distributes chocolate from Israel to the Children in the Masorti School in Berlin
What Are Our Communities' Most Urgent Needs?
Masorti Olami, together with our partners at The Schechter Institutes, are currently funding and helping to house, feed and meet the travel expenses for hundreds of people in Ukraine and now beyond its borders. With your help we can continues to meet the needs of our communities wherever they are.
Basic goods and supplies are needed by our communities across the country and in their new homes. This includes food, medical supplies, vitamins and sanitary products as well as protective gear and equipment.
Pesach supplies are needed by our communities across the country and in their new homes. This includes food and equipment such as Seder plates, matzah as well as Russian and Ukrainian haggadot in order to celebrate the holiday.
Educational materials and supplies are needed by the Masorti/Conservative kindergarten and school in Berlin, as the institutions have expanded dramatically in order to accommodate the new Ukrainian guest students.
Transport and evacuation to safe communities and houses, both in western Ukraine and in neighboring European countries, as well as Israel, is still needed for those who are fleeing the war. Our community members need to be evacuated to safety, and need accommodation once they reach their destinations.
Long-term support and rebuilding of our Ukrainian communities will be needed. While we deal with the most pressing needs on the ground, together with our partners, we are starting to build a plan for the 'day after', when our community members will need to rebuild their lives wherever they find themselves.
Ukrainian Refugees in Berlin together with Rabbis Balter and Stamov and Tehila Reuben
NOAM Olami Chapters Come Together To Send Prayers To Our Communities In Ukraine
NOAM Olami Chapters from around the world have come together to create a beautiful joint message for NOAM Ukraine, and all those impacted by the situation in Ukraine, which can be viewed here.
Prayer For Peace In Ukraine
On February 24, we were joined by over 1000 people online for our 'Prayer For Peace In Ukraine', organized together with our partners at The Schechter Institutes, Masorti Israel, Rabbinical Assembly, United Synagogue of Conservative Judaism and MERCAZ Olami. If you missed the live prayer or would like to relive it, it can be viewed here.
Amidst The Clouds: Addressing The Crisis In Ukraine
Our partners at The Schechter Institutes have created a source sheet which we hope will be useful in your communities as you discuss current world events and ways in which you might support Ukraine including its Jewish communities. Please be in touch with us if you would like these materials translated for your community. The source sheet can be found here: Amidst the Clouds- Addressing the Crisis in Ukraine.
The ongoing efforts of Masorti Olami and The Schechter Institutes as well as by other Jewish organizations across Germany have been covered by Haaretz, a leading Israeli newspaper. Read more about our work for our Ukrainian communities and on why Jewish Ukrainian refugees are finding refuge in Germany,

here

.
We again thank all of our supporters for the tremendous outpouring of chessed.
The war in Ukraine is still ongoing, and our communities still need your help.
Rabbis Balter, Stamov and Tehila Reuben meet the leadership of Masorti Germany for Dinner: Eva Frenzen, Mario, Mirjam and Jonathan Marcus
Rabbi Reuven Stamov visits the Masorti Kindergarten in Berlin with Rabbi Mauricio Balter and Tehila Reuben
---